Click The image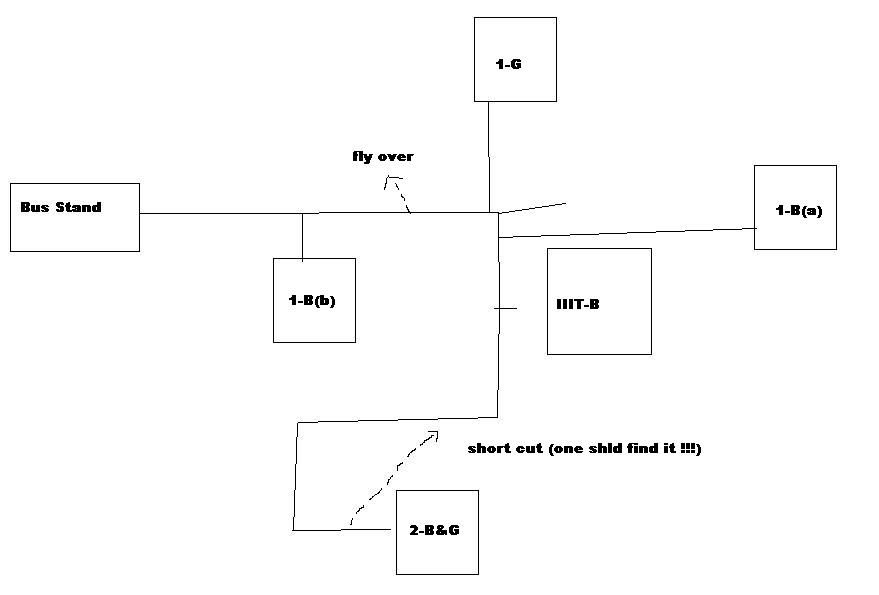 Well guys and girls, its been tough to get these details. May be this information will help you out. For any further details call me up
I will start with the bus stand, called Majestic. You need to go to platform no. 15 and than ask for electronic city buses. I didn't actually go for the bus num's, but I heard that one can find many buses from there.
well take ticket to E-city( or simply say Infosys building). It may take around 30 to 40 mins. Hmm you should see the Infosys building and also good thing to remember is the flyover which you see in diagram takes a diversion to right. t's like a "T" junction near the Infosys building. Now you have to get down there and take aright turn. Its a matter of 10 mins walk from there and you reach IIIT-B. In front of it, you have Infosys Gate-1, HP and Siemens.
You can find Indian Bank and ICICI ATM's over there along with Bank of "Union Bank of India"
I found two PG's near to the IIIT-B. I have marked them with the number's in the figure as 1 and 2.
About 1
( In haus Services )
1-B(a)
is located backside to the IIIT-B itself and you can reach it in 5 mins. Its for boys only.
One can find 2-share and 3-share rooms over here. Per head without food you'll have to pay 3000 for 3-share and 3250 for 2-share. Food for one month costs 1000. So finally
2-share : 3250 ( Without Food) --- 4250 ( With Food)
3-share : 3000 ( Without Food) --- 4000 ( With Food)
You'll get break fast and dinner only. No lunch in week days.
1-B(b)
is located at Koneppa nagar one block away from ecity. You'll get room service for food from 1-B(a) at the same price of 1000 only.
These are furnushed flats with 4-share asking you to pay 2500 ( without food).
1-G
is located near the ecity bus stop. I didn't go there
2500 + 1000... Canteen is located here only.
food, 2 times a day...girls just love this scheme
Add on's
1. TV per room
2. Laundry.. Rs 12 per pair
3. Security ... Hmm
Rooms are fine and clean with attached bathrooms.
About 2 ( A.N.R PG Service)
First thing is first, You need to walk 1 km
But health is wealth...
It's a 4 floor apartments.. In which girls stay at 1st floor and rest 3 for guy's
2-share : 2500 ( Without Food) --- 4000 ( With Food)
breakfast with
, lunch and dinner
Add on's
1. TV per room
2. Laundry.. Rs 10 per pair
3. Security ... CC cameras at every floor... what more you need !!!
4. BSNL Wifi internet... at no extra cost
you'll also have a coupon system for food.
Breakfast - Rs 15
lunch and dinner - each Rs 20
Or else simply pay 4000 to get 3 throughout the month.
Advantages
1. one can find both Andhra and North Indian hotels, mess and restaurants
2. Evening chat food and even a Bakery.
3. Two hair saloon's for men.
4. Sorry I couldn't find a Ladies Beauty parlour
Well, don't worry... You'll find it as it is your first priority
in the shopping list
Well I want to take this as security does matters for everyone and I would recommend for girls especially.
In PGDSD program we also have online study material. And so we need internet. So while getting free internet, opting for other PG service or taking a internet connection for your laptop or PC is a costly matter
We can walk for 1 km casually and be F.R.I.E.N.D.S
Morning and evening walks ...
Time to discuss
Plz post your comments in respective orkut topic only as I don't want our discussion to be viewed by my blog visitors.