" Yamaha has just launched the baddest power cruiser of them all. Move aside mortals, the VMAX is here!"
, Abhishek Nigam writes for Bangalore Times.
Yamaha VMAX: A class of its own!
Sopan Sharma of 'Zigwheels' said, "We set out to examine what bikes challenge the VMAX, only to return with the answer that technically and technologically, there are none!"

It is inherent biker nature to ask for more all the time. The problem is with the human brain - it gets used to the adrenaline rush from acceleration way too soon. The same logic applies even to the perceived laid-back class of motorcycles known as cruisers. While images of large hulks of gleaming metal cruising on straight American motorways at 80-miles-an-hour may be a part of the American dream, soon there was a section of motorcyclists that was not happy with doing just this anymore. The need belonged in America, but the brains to make it happen came from Japan, and the original 1985 Yamaha V-Max became the world's first power cruiser even before the word was coined.



In more recent times however, the need for speed has been high on the list of cruiser buyers, resulting in the creation of some beautiful and seriously grunty machines. After the decline of the original V-Max, it was Harley-Davidson that took on the high-power concept and mated it with a low-slung cruiser styling to create the VRSC V-Rod. Resurrected British bike maker Triumph then launched a knock-out punch with the massive Rocket III, which really set the boundaries of motorcycle manufacturing with its massive 2.3-litre inline-triple engine.



The success of both the V-Rod and the Rocket III prompted Japanese bike makers to respond, and large-displacement power cruiser market was suddenly back in business. Honda already had the large but cumbersome 1.5-litre boxer-6 Valkyrie, and soon both Kawasaki and Suzuki joined the party with their own large V-twins - the Vulcan and the stupefying Intruder that we tested just a few months back.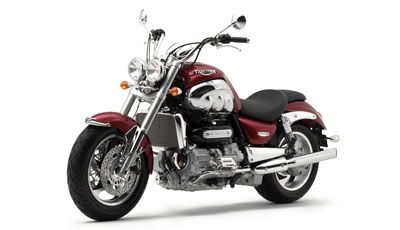 Now while all of these are large-displacement high-power cruisers weighing a little over 300kg, there are a whole lot of attributes that set the Yamaha VMAX apart from this crop. To begin with, you don?t have the stretched out, feet-in front manner of riding on the VMAX, which is much more of a low-slung street naked as opposed to being a long and never-ending cruiser. Also, while most of its competitors pack in some equally mean technology to manage the large engines and larger bikes, the VMAX is in a league of its own with his revvy V4 engine. None of its competitors employ four-cylinders, instead sticking with the tried and tested V-twin sculpture.