Right now, it's October 22nd in some parts of the world, and Microsoft has begun releasing Windows 7 across the world at various launch parties and events. In New Zealand, Microsoft held events in Auckland and Wellington to promote the launch of Windows 7 by gathering a crowd and making a big Windows 7 logo with them.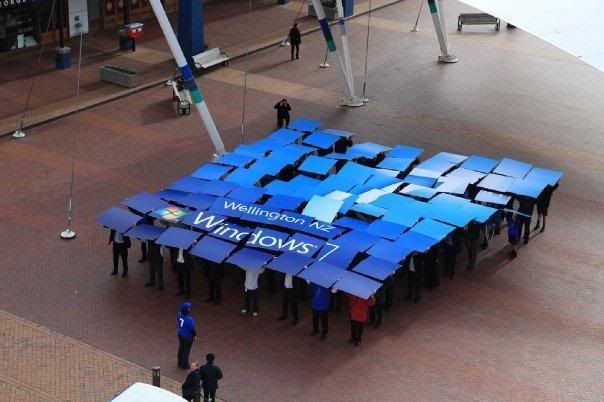 Windows 7, is available worldwide today to the general public, whereas before now it has only been available to technet/msdn subscribers, as well as VLK owners and university students around the globe. Windows 7 had the largest beta testing process in the history of Windows release cycles, with well over 8 million copies of the public beta being downloaded in 3 months.

In May, Microsoft made the Release Candidate, Build "7100", available to the public through until August 20, stating that this version of Windows 7 would be free for "six months" if you continued to use the RC until it expired. This build had over 100 fixes and tweaks that Microsoft had provided thanks to testers feedback. On August 6, Microsoft made available the RTM code, Build "7600", of Windows 7 to Technet/MSDN users, and general availabilty on October 22 marks the final phase of Windows 7's release - after 3 years of development and testing, which was heavily user driven.