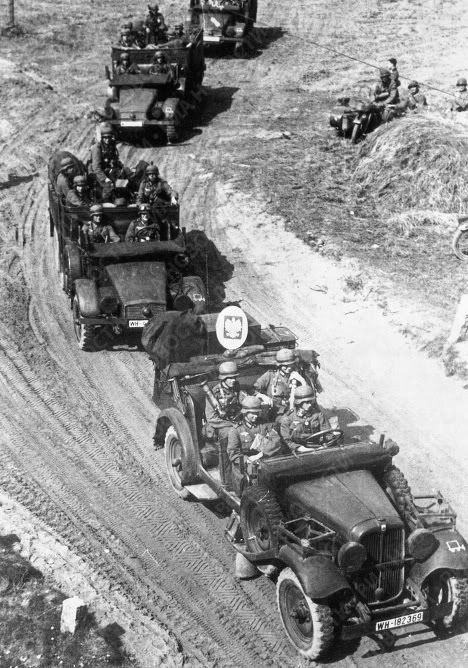 September 1, 1939. German troops pass through Poland's territory, carrying a Polish border sign as a war trophy.
Concrete plans for employing Wehrmacht troops in the war against Poland were developed in Germany in April-June 1939. The German strategy was stated in orders dated July 15, 1939: "The destruction of the Polish armed forces is the goal of the operation. The leadership demands lightning strikes and raid success at the start of the war." In the picture: September 1, 1939. Warsaw streets, a shot from the Obiknovenny Fascism (Everyday Fascism) documentary, filmed by Mikhail Romm at Mosfilm studio in Moscow, released in 1965.


Wehrmacht soldiers shoot Poles in 1939.


October 31, 1939. Hitler's soldiers on Vaclav Square in Prague.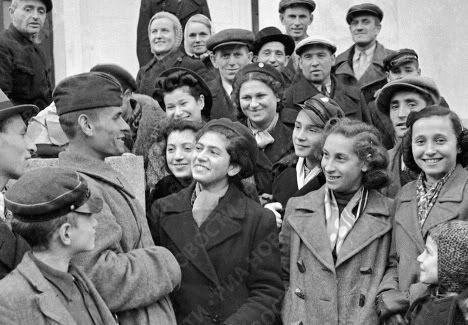 Soviet troops invaded Poland's eastern regions on September 17, 1939. In 1939-1940, with the help of Latvian, Lithuanian and Estonian opposition, Stalin's Soviet Union took control of these countries. A part of Karelia's territory and the areas bordering with the city of Leningrad (now St. Petersburg) were annexed by the Soviet Union from Finland as a result of a Soviet-Finnish war conflict. In the picture: A Red Army soldier talking to inhabitants of the city of Wilno (Vilnius) in the days immediately after Lithuania was incorporated with the Soviet Union.