1. The most rattlesnakes held in the mouth by their tails is 11 by Jackie Bibby. He held the snakes for 10 seconds on a German TV show in December last year.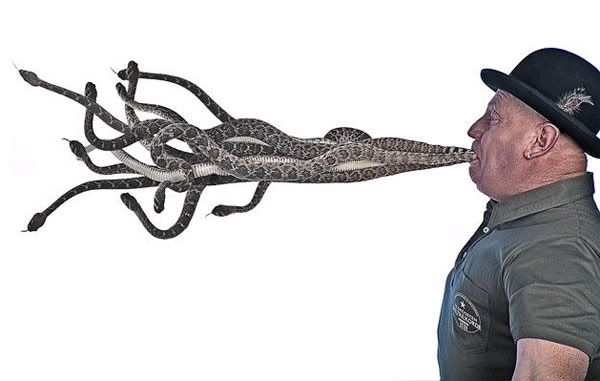 2. The ultimate in tattooing is represented by the chainsaw juggling, unicycling, sword-swallowing Lucky Diamond Rich (Australia, born New Zealand), who has spent over 1,000 hours having his body modified by hundreds of tattoo artists.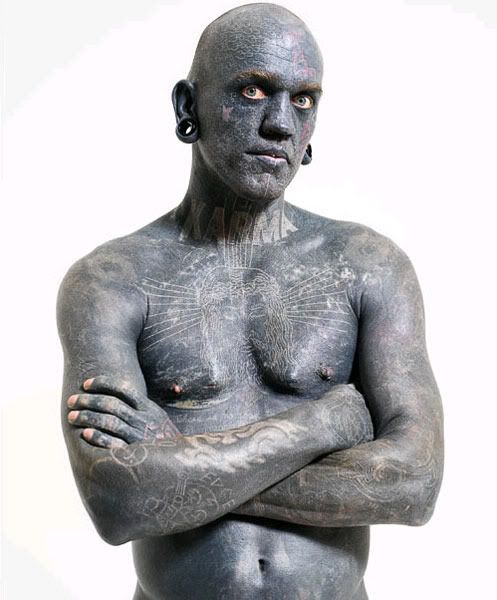 3. The highest shallow dive measures 10.87 m (35 ft 8 in) and was achieved by Darren Taylor at the LA County Fairgrounds (FAIRPLEX), California, United States on 20 March 2009.
4. He record for the heaviest vehicle pulled over a level 100 ft (30.48 m) course weighed 57,000 kg (125,680 lb) and was set by Rev. Kevin Fast (Canada) in Cobourg, Ontario, Canada, on 12 May 2007.
5. The most push-ups using the backs of the hands in one hour is 1,940 and was set by Paddy Doyle at Stamina's Boxing Self Defence Gym in Erin Go Bragh Sports Centre, Birmingham, UK, on 8 November 2007.
6. The man with the most body piercings is John Lynch a.k.a. 'Prince Albert', who was counted as having 241 piercings, including 151 in his head and neck, in Hammersmith, London, on 17 October 2008.
7. Melvin Boothe has the longest fingernails on a pair of hands, with a combined length of 9.85 m (32 ft 3.8 in), when measured in Troy, Michigan, USA on 30 May 2009.
8. The largest commercially available hamburger is 84.14 kg (185.8 lbs) and is available for US$499 (£302.84) on the menu at Mallie's Sports Grill & Bar in Southgate, Michigan, USA, as of 30 May 2009.
9. The longest distance travelled on a pogo stick. Ashrita Furman of Jamaica, New York, USA set a distance record of 37.18 km 23.11 miles in 12hr 27min on June 22, 1997 at Queensborough Community College Track, New York.
10. The largest playing card structure. Bryan Berg constructed a free-standing house of cards that measured 7.86 m (25 ft 9.44 in) tall. It was completed on 15 October 2007 as part of the State Fair of Texas, in Dallas.