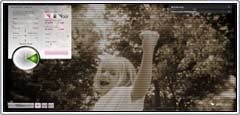 1 | Moodstream | Getty Images

Moodstream is a hypnotic website brought to you by the folks at Getty Images that offers a brainstorming tool designed to help get your creative juices flowing. By simply tweaking the mood sliders you can adjust a stream of images, footage, & audio that can help inspire your creative direction.


2 | Monoface

Mono is an advertising agency based in Minneapolis, MN that lives by the motto that "simpler is better." The "Mono"face site lives up to that motto by presenting visitors with a fun and simple Flash application that allows them to sculpt a Mr. Potato Head style face that contains 759,375 entertaining possibilities.


3 | Waterlife

Waterlife is a showcase for the documentary film of the same name that offers its audience a wonderful preview of the lush cinematography and rich storytelling found in the film. The true genius of the site, however, is found in its fluid navigation that recalls the gentle motion of a lake.


4 | Marc Ecko

MarcEcko.com is a wonderful example of using the vast possibilities of Flash to accurately reflect the ethos of a consumer brand within a website. Even visitors unfamiliar with the Ecko brand will feel they understand the art & philosophy it symbolizes within a few minutes of touring the site.


5 | Get The Glass

Get The Glass is the work of the California Milk Processor Board and was designed to encourage increased milk consumption by inviting visitors to participate in a comically entertaining Flash based game whose objective is to Get the Glass--of milk of course. The current design appeared in late 2007.


6 | NVIDIA® - Speak Visual™
Visual is a Flash based micro site designed to promote the power of NVIDIA's graphic processors and was developed in a collaboration between the Odopod & Cutwater design studios. The site was launched in December 2008 and currently serves as a showcase for a multimedia design contest sponsored by NVIDIA.


7 | AgencyNet Interactive

AgencyNet Interactive is a design studio based in New York City, NY and Fort Lauderdale, FL whose current website design appeared in March of 2005. Absolutely stunning site! The depth and functionality of the site far surpasses any Flash based site we've ever seen, but don't take our word for it...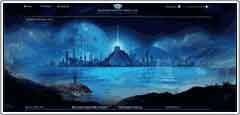 8 | 2Advanced Studios

2Advanced Studios is an interactive design firm based in Aliso Viejo, CA whose current design appeared in August 2006. 2Advanced has always been known for their stylish neo-ancient homepage design, but their latest redesign takes that to a whole new level with a background mural that is truly inspiring.


9 | Section Seven Inc.

Section Seven Inc. is a website design studio that has utilizes the power of Flash to create a truly unique navigation system that allows users to tour their portfolio in style. Their current site appeared on the web in early 2007 and has received numerous awards including the prestigious FWA.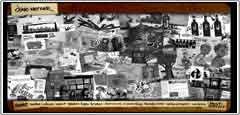 10 | Dave Werner's Portfolio

Dave Werner uses his Flash skills not only to publish his portfolio, but through the use of well narrated video, he also gives visitors a sense of his personal story which seeks to give stronger voice and context to his featured work. The current version of OkayDave.com went live in mid 2006.